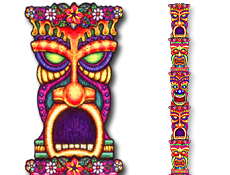 I'm turning 24 on Monday. The only thing worse than getting older is having your birthday on a Monday. So in order to avoid any complications, I decided to celebrate my birthday on a Saturday. For Cheap.
If you're going to have a party, pull all the strings you can to spend as little money on the party as possible.
My boss just had his 30th High School Reunion. He had a lot of decorations left over. I helped him out with registration, so he was more than willing to loan me his Luau decorations.
The Majority of my acquaintances have tiki torches, changed the theme of the party from BYOB to BYOT (bring your own torch.)
Hosting the party at my house means that I don't have to pay money for a dance hall or going out to the clubs or bars.
Downloading free Luau music off the internet and borrowing my brothers stereo equals no extra costs for the DJ.
Negotiating with siblings to help decorate, weedeat, or cook for the party instead of buying me gifts, helps out tremendously.
Knowing what I want to buy in the store and creating a shopping list allows me to research for coupons or price comparison before I step foot in the door.
My room mate working at a pizza place the night of the party means discounts on hawaiian pizzas and she gets to enjoy some of the festivities as well!
Making the food in house, having my mom make some as well, saves money on food costs.
Asking people to dress hawaiian.... well doesn't save me any money, but really adds to the memories.
My party is going to be great and I'm going to feel great afterwards because I know that I've done everything in my power to keep it cheap, keep it real, and keep it exciting!
So come one down to the Luau!